James Bond Collection (DVD) George Lazenby Pierce Brosnan Roger Moore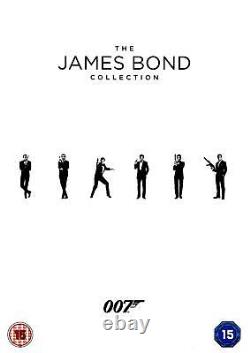 Actors: George Lazenby, Pierce Brosnan, Roger Moore, Sean Connery, Timothy Dalton. Director: Guy Hamilton, John Glen, Lewis Gilbert, Peter Hunt, Terence Young. Description: Synopsis: Box-set: All the Bond films are gathered together in this one-of-a-kind boxed set - every gorgeous girl, nefarious villain and charismatic star from Sean Connery to Daniel Craig and now including the latest Bond film, Spectre. Experience Bond with this fitting tribute to the most iconic and enduring secret agent in movie history. No (1962) - His name is Bond, James Bond. And here, in his explosive film debut, Ian Fleming's immortal action hero blazes through one of his most spectacular adventures. Sean Connery embodies the suave yet lethal cool of Agent 007 as he battles the mysterious Dr.
No, a scientific genius bent on destroying the U. This time, Bond squares off against the evil SPECTRE organisation in a race to seize a Soviet decoding machine, thrusting him into a thrilling boat chase, a brutal helicopter attack and a deadly brawl aboard the Orient Express. Goldfinger (1964) - Sean Connery reprises the role of James Bond as he pits his wits against the power-crazed criminal mastermind Goldfinger (Gert Frobe) in the third of the long-running spy series. Goldfinger has secured most of the gold in the world and now plans to render the rest useless. Henchman Oddjob (Harold Sakata) helps him realise his plans, thanks to his unusually lethal bowler hat, whilst Pussy Galore (Honor Blackman) is the glamorous pilot who Goldfinger hopes will execute the raid on Fort Knox that will make him the richest man in the world.
Can Bond save the day again or has he finally met his match in the man with the Midas touch. Thunderball (1965) - The thrills never let up as James Bond dives into this riveting adventure filled with explosive confrontations and amazing underwater action. Sean Connery brings his characteristic style and magnetism to Agent 007 as he travels to Nassau to track down a villainous criminal who is threatening to plunge the world into a nuclear holocaust.
You Only Live Twice (1967) - A disaster in space pushes humankind toward World War III, and only James Bond can prevent it in this pull-out-all-the-stops movie spectacular. On Her Majesty's Secret Service (1969) - James Bond goes undercover in the treacherous Swiss Alps in this action-packed epic filled with artillery laden ski pursuits, incredible stunts and nonstop thrills. George Lazenby leaps into the role of Agent 007 with supreme confidence and undeniable charisma, even finding love with the beautiful and seductive Tracy Di Vicenzo (Diana Rigg).
But first Bond must stop evil genius Blofeld (Telly Savalas) from realising a germ warfare plot that could kill millions. Diamonds Are Forever (1971) - A fortune in stolen diamonds thrusts James Bond into action in this thrilling adventure. John to prevent his nemesis Blofeld (Charles Gray) from using the diamonds in a deadly laser satellite. Live and Let Die (1973) - James Bond battles the forces of black magic in this high-octane adventure that hurtles him from the streets of New York City to Louisiana's bayou country. With charm, wit and deadly assurance, Roger Moore steps in as Agent 007 and takes on a powerful drug lord (Yaphet Kotto) with a diabolical scheme to conquer the world. The Man With The Golden Gun (1974) - James Bond has been marked for death, and he'll need all his lethal instincts and seductive charm to survive in this action-packed adventure.
Featuring a wild automobile chase through Bangkok and Bond's stunning confrontation with an entire martial-arts school, The Man with the Golden Gun delivers nonstop excitement. The Spy Who Loved Me (1977) - Nobody does it better than Bond, and he proves it once more in this explosively entertaining adventure that takes him from the Egyptian pyramids to the ocean floor and to a gravity-defying mountaintop ski chase. Roger Moore brings inimitable style to Agent 007 as he teams with beautiful Russian agent Anya Amasova (Barbara Bach) to stop the megalomaniac Stromberg (Curt Jurgens) from unleashing a horrific scheme for world domination.
Moonraker (1979) - Lewis Gilbert directs the eleventh instalment of the James Bond franchise. When a space shuttle goes missing during a test flight, James Bond (Roger Moore) is the man who must track it down. His investigations take him to Venice, Rio de Janeiro and finally into outer space where he uncovers a ruthless plot to wipe out the human race and replace it with genetically engineered humanoids. For Your Eyes Only (1981) - James Bond is thrust into one of his most riveting adventures in this jam-packed free-for-all of outrageous stunts, passionate encounters and exciting confrontations.
Roger Moore portrays Agent 007 with lethal determination in a plot that finds him infiltrating the Greek underworld to locate a stolen device capable of controlling a fleet of nuclear submarines. Octopussy (1983) - From a thrilling jet chase to a climactic countdown to nuclear disaster, James Bond is back in an electrifying adventure that pushes the limit for nonstop excitement. Roger Moore portrays the immortal action hero, perfectly capturing Agent 007's deadly expertise, acerbic wit and overpowering sex appeal as he investigates the murder of a fellow agent who was clutching a priceless Fabergà egg at the time of his death. A View To A Kill (1985) - Roger Moore lends humour, elegance and lethal charm to his final performance as James Bond in A View to a Kill. Bond confronts Max Zorin (Christopher Walken), who has devised a plan to corner the world's microchip market, even if he has to kill millions to do it.
But before Bond can stop the madman, he must confront Zorin's beautiful and deadly companion, May Day (Grace Jones). The Living Daylights (1987) - Timothy Dalton plays James Bond for the first time in this instalment of the 007 franchise. The action this time sees Bond running around various exotic places in pursuit of a couple of seedy dealers in arms, drugs and diamonds.
Licence to Kill (1989) - James Bond turns renegade to hunt down a master criminal in this pulse-pounding thrill ride that's packed with awesome stunts, subtle humour and explosive confrontations. Timothy Dalton brings urgency, charm and deadly determination to his portrayal of the super-agent, who leaves the British Secret Service and begins a fierce vendetta after his friend Felix Leiter (David Hedison) is brutally attacked by drug lord Franz Sanchez (Robert Davi). GoldenEye (1995) - The effortlessly suave and sophisticated Pierce Brosnan makes his acclaimed debut as Agent 007 in this riproaring espionage thriller featuring the most eye-popping opening sequence yet! When an MI6 agent (Sean Bean) turns rogue and plans world domination with a terrifying satellite-borne weapon, Bond must pursue his former ally to Cuba, Monte Carlo, Switzerland and even Russia, all while dodging a sexy, deadly femme fatale (Famke Janssen) who will stop at nothing to put the squeeze on the intrepid spy.
When a ruthless media tycoon (Jonathan Pryce) tries to destabilise the world economy by orchestrating a deadly standoff between world superpowers, in an atempt to achieve high ratings for his media conglomerate, Bond must step in to prevent World War III. Co-starring Teri Hatcher and Michelle Yeoh, this high-tech action-adventure will exhilarate Bond fans of all ages. The World Is Not Enough (1999) - The World is Not Enough is an exhilarating but sophisticated, action-packed adventure.
Die Another Day (2002) - James Bond (Pierce Brosnan) pulls out all the stops to take you on an unforgettable, adrenaline-pumping ride across the globe in this action-filled adventure. From a dark cell in a North Korean prison to the beautiful beaches of Cuba, 007 is on the trail of a diabolical genius who's hell-bent on slicing up the Earth literally. Casino Royale (2006) - Daniel Craig stars as the latest incarnation of James Bond in the 21st instalment of the franchise. Based on one of the original Ian Fleming novels, the story follows a young Bond at the beginning of his career having just received his double-0 status. The rookie MI6 agent, aided by British Treasury agent Vesper Lynd (Eva Green), is tasked with infiltrating the group and ultimately defeating the rogue player, both on and off the tables. After being betrayed by Vesper in Casino Royale, Bond (Craig) turns his sights on those who controlled her. Interrogating Mr White (Jesper Christensen), Bond discovers that the shadowy organisation responsible for blackmailing Vesper is a lot more powerful and dangerous than he ever imagined.
Wishing to control one of the world's natural resources, Greene's organisation has a finger in every government agency worldwide, and it falls to Bond to keep one step ahead of his friends, and enemies, to stop Greene holding the world to ransom. Skyfall (2012) - Bond's loyalty to M is tested as her past comes back to haunt her. As MI6 comes under attack, 007 must track down and destroy the threat, no matter how personal the cost.
Spectre (2015) - A cryptic message from the past sends James Bond on a rogue mission to Mexico City and eventually Rome, where he meets Lucia Sciarra (Monica Bellucci), the beautiful and forbidden widow of an infamous criminal. Bond infiltrates a secret meeting and uncovers the existence of the sinister organisation known as Spectre. DVDs ARE REGION 1 UNLESS OTHERWISE STATED.
This item is in the category "Movies & TV\DVDs & Blu-ray Discs". The seller is "rarewaves-usa" and is located in this country: US. This item can be shipped worldwide.
Movie/TV Title: James Bond Collection
Title: James Bond Collection
Format: DVD
Rating: BBFC 15
No Of Discs: 24
Release Date: 23/10/2017
Release Year: 23/10/2017
Studio: Warner Home Video
Language: English
EAN: 5039036082211
Region Code: DVD 2
Actor: Timothy Dalton
Subtitle Language: de
Director: Terence Young
UPC: 5039036082211

---