James Bond (Sean Connery) Diamonds Are Forever Original US 1 Sheet (1971) FRAMED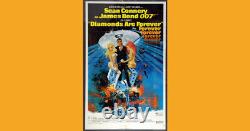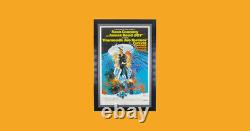 James Bond Diamonds Are Forever (1971) Original US 1 sheet film poster, starring Sean Connery and Jill St. John, United Artists, professionally framed, 27 x 41 inches. Explosive artwork by Robert McGinnis for Sean Connery's last outing as James Bond (at least until the unofficial Never Say Never Again). Diamonds Are Forever (1971) is the seventh spy film in the James Bond series to be produced by Eon Productions. Guy Hamilton was hired to direct, and Shirley Bassey performs vocals on the title theme song.
The film marked the final appearance of the SPECTRE organization (though not by name) in Eon's Bond films until the 2015 film of the same name.

---