James Bond(Sean Connery)Goldfinger Original Half Sheet Poster (1964)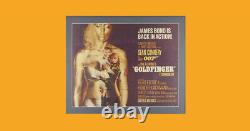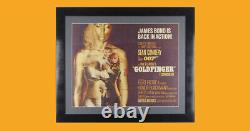 James Bond Goldfinger (1964) British Original Half Sheet film poster, Style A, Art by Robert Brownjohn, starring Sean Connery, United Artists, framed, 22 x 28 inches. While the Bond franchise started with Dr.
No, and continued with the hugely entertaining From Russia with Love, it didn't really hit its stride until the third movie in the series, the incomparable Goldfinger. This was the film that firmly established many of the James Bond hallmarks, such as the outlandish and colourful gadgets, the larger-than-life über-villains, and the impressive cars (this one featured the legendary Aston-Martin). Add to the mix the already-present traditions, including the exotic locales, the suave leading man, and of course, the always electrifying beauty of the Bond girls. In many ways, this movie set the standard for all Bond films to follow, and many fans still consider this the pinnacle of the series. This film's spectacular opening credit sequence designed by Robert Brownjohn is the source of this wonderful image for this country-of-origin poster.
Featuring a gold-dipped Shirley Eaton (Jill Masterson) superimposed over Bond (Sean Connery) with his weapon drawn and clutching Honor Blackman (Pussy Galore).

---