Poster on linen SEAN CONNERY is JAMES BOND 007 in DR NO 1962 US1sht LINENBACKED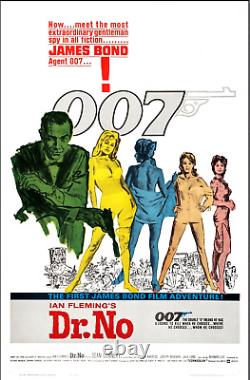 Original 1962 USA ONE SHEET (27 inches by 41 inches) poster used in movie theaters for marketing. DR NO art by Joseph Caroff & Mitchell Hooks.
This very rare and hard to find edition is in GOOD+ to VERY GOOD condition. The poster was nicely backed and displays incredibly well with bright colors. A restored poster that displays signs of use. Touchup has addressed fold wear, pinholes, small tears, and a small bit of paper loss on the left side. From John Zabrucky of Hollywood and his "Modern Props Science Fiction Collection". Linen Backing is one to two inches outside paper border. Directed by TERENCE YOUNG, Character Created by IAN FLEMING. TAGLINES : NOW meet the most extraordinary gentleman spy in all fiction! " "007 The double "O" means he has a license to kill when he chooses...
" "The First James Bond Film Adventure! - A resourceful British government agent seeks answers in a case involving the disappearance of a colleague and the disruption of the American space program. James Bond 007 is Britain's top agent, and is on an exciting mission, to solve the mysterious murder of a fellow agent. The task sends him to Jamaica, where he joins forces with Quarrel and a loyal C. While dodging tarantulas, "fire breathing dragons", and a trio of assassins, known as "the three blind mice".
Bond meets up with the beautiful Honey Ryder and goes face to face with the evil Dr. CAST includes Sean Connery, Ursula Andress, Joseph Wiseman, Jack Lord, Bernard Lee, Lois Maxwell, John Kitzmiller, Anthony Dawson, Zena Marshall, Eunice Gayson, Peter Burton. BEHIND THE SCENES TRIVIA : The producers met Sir Sean Connery, but were dubious as to whether the Scot could play the jet-setting character, as his background was a working-class Scot born in Edinburgh, who dropped out of school at the age of fifteen to join the Royal Navy. He had several other positions, including lifeguard, milkman, and former Mr. Universe contestant, before Connery's rugged appeal won him the role of James Bond. He was offered a multi-movie contract, with the allowance of being able to pursue projects outside of the Bond film franchise. Sir Sean Connery won the role of James Bond after producer Albert R.
Broccoli attended a screening of Darby O'Gill and the Little People (1959). He was particularly impressed with the fist fight Connery has with a village bully at the climax of the movie. Broccoli later had his wife Dana Broccoli see the movie and confirm his sex appeal. Still, for publicity purposes, there was a contest to find the perfect man to play James Bond. Six finalists were chosen and screentested by Albert R.
Broccoli, Harry Saltzman, and Ian Fleming. The winner was a 28 year old model named Peter Anthony who looked the part, but completely lacked the acting technique to play it. Ian Fleming didn't originally like the casting of Sean Connery as James Bond.
Bond was English and Connery was Scottish, Bond was from an upper-class background and Connery came from a working-class background, Bond was refined and educated and Connery was too rugged. After seeing this movie, Fleming softened and decided that Connery was perfectly cast. In the novel "On Her Majesty's Secret Service", Bond was revealed to have Scottish ancestry and Bond's girlfriend Theresa "Tracy" Vicenzo was described with Ursula Andress' details. Ironically, Fleming thought the young Roger Moore would be ideal in all respects but Moore wasn't available.

---