Sean Connery James Bond 007 Plays Golf BTS Harry Saltzman 1964 Orig UK Press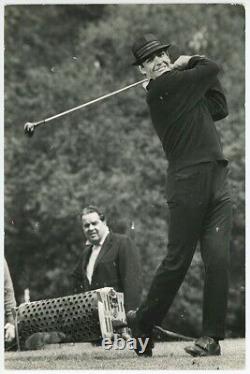 Rare Vintage Original Press, Production & Publicity Photo. Stored in a "climate controlled" dark room; away from pets, dust, moisture, water, bugs, exposure to UV sunlight, humidity, heat & smoke. This preserved the delicate paper and delayed the process of premature aging, which prevents the paper from slowly disintegrating; turning brittle & brown.
Also fading away the bright colors! Today, it's impossible to find these particular photographs in such.
Over time, this rare & magnificent work of art will substantially increase in value and become a very prudent investment! 100 % Vintage Original UK Press Photo featuring Sean Connery playing golf. This authentic 1964 movie photograph is extremely rare and impossible to find now! So go ahead, Do NOT Wait Much Longer! Take advantage of this special offer today!
A very rare 8.5" x 11.5" UK (country of origin) "double-weight" silver gelatin and 100% vintage original "behind the scenes" publicity photograph from 1964. It features Sean Connery (James Bond) playing golf while Harry Saltzman, one of the 2 (two) co-producers of the first nine James Bond films is clearly shown looking in the background. This incredible piece of iconic cinematic history will unquestionably make a superlative addition to your Horror, Spy Film, Sci-Fi, Fantasy, Italian Gothic, Mystery, Crime, Giallo and/or Adventure movie memorabilia collection. No pin holes, tears, stains, rips or creases.
Synopsis/Plotline: Goldfinger is a 1964 spy film and the third installment in the James Bond series produced by Eon Productions, starring Sean Connery as the fictional MI6 agent James Bond. It is based on the 1959 novel of the same name by Ian Fleming. The film also stars Honor Blackman as Bond girl Pussy Galore and Gert Fröbe as the title character Auric Goldfinger, along with Shirley Eaton as the iconic Bond girl Jill Masterson. Goldfinger was produced by Albert R.
Broccoli and Harry Saltzman and was the first of four Bond films directed by Guy Hamilton. The film's plot has Bond investigating gold smuggling by gold magnate Auric Goldfinger and eventually uncovering Goldfinger's plans to contaminate the United States Bullion Depository at Fort Knox. Goldfinger was the first Bond blockbuster, with a budget equal to that of the two preceding films combined. Principal photography took place from January to July 1964 in the United Kingdom, Switzerland and the United States. Goldfinger was heralded as the film in the franchise where James Bond "comes into focus".
The promotion also included an image of gold-painted Eaton on the cover of Life. Many of the elements introduced in the film appeared in many of the later James Bond films, such as the extensive use of technology and gadgets by Bond, an extensive pre-credits sequence that stood largely alone from the main story-line, multiple foreign locales and tongue-in-cheek humor. Goldfinger was the first Bond film to win an Oscar (for Best Sound Editing) and opened to largely favorable critical reception. In 1999, it was ranked No. 70 on the BFI Top 100 British films list compiled by the British Film Institute. Your Premiere Source for James Bond 007, Sexy Celebrity and Classic Horror 8" x 10" Movie Photos. Now Celebrating Our 54th Year Of Excellence.
The Industry Leader In Price, Service and Selection. Q: WHAT MAKES THESE PHOTOS UNIQUE? A: ONLY A LIMITED AMOUNT OF THESE HIGHLY COLLECTIBLE PRINTS WERE PRODUCED!
Important Facts For YOUR Consideration.. O ur superlative photo archives include many exclusive and never-before-seen rare images. Regardless if you're a seasoned collector or just starting out, Kiss Me Monster is definitely the right place to start! We only feature fine art photographs of iconic pop culture, horror, sci-fi, fantasy, sexy celebrities, classic pin-up models and much more!
Very soon, we will also begin to feature Limited Edition masterpieces from new emerging artists & photographers. Those sellers are printing them from their homes or local 1 hour photo mats. Most of those cheap movie photos (with very few exceptions) will also fade over time. They have absolutely no collectible or intrinsic value what-so-ever! As the old saying goes. You Get What You Pay For! This 8" x 10" (20 x 25 cm) luster gloss finish print was developed in a professional photo lab from 100% vintage original and fully restored source material; original (2 x 2) (4 x 4) (8 x 10) studio production transparencies and negatives. Press and (or) publicity slides, chromes or the photographer's original 35mm contact sheet proof negatives. T hey were also meticulously restored, color corrected and then exposed on Kodak Professional photographic paper. Real metallic/silver-halide microscopic particles are actually embedded in the emulsion which ensures. Spectacular brightness & stunning image quality! Surface of the deluxe heavyweight and very expensive archival and acid free photographic paper for 200 + years shelf life of resistance from the damaging effects of ultra. Violet light, air, pollution, heat and moisture which ultimately lead to extreme paper deterioration & image fading! Not only are they very desirable and visually stunning photographs to add to your growing movie photo archives/collection but also museum quality fine art photos with extreme sharpness and unique pearlescent appearance with vibrant color saturation and flattering flesh tones plus exceptional visual depth that will only increase in value for generations to come! We obtained the original source material from different movie studios, reputable press agencies, motion picture archives, private collectors & fashion/press photographers. Your museum quality photos come ready to be proudly displayed in your photo archives, albums or picture frames. Many of these collectible photos were also developed directly from extremely rare contact sheet proof negatives which were part of the original studio photographer's private archives. This exquisite silver gelatin photograph will make a superlative addition to your growing collection. Or framed & proudly displayed in a prominent wall in YOUR den, home office or game room!
IMPORTANT- Most of these stunning test, proof & production shots were never used in theaters, magazines layouts or publicity campaigns. None were ever intended or meant to be collected by the general public! In most cases, the original source material was just filed away and completely forgotten about eventually discarded for good. Now available for the first time ever! Here at Kiss Me Monster..
We've partnered with some of the world's most renowned still photographers, contemporary artists and reputable art/movie memorabilia dealers to bring you only premium quality, original, authentic and unique pop-culture collectibles, fine art photography and other incredible works of art. Shortly, we will also feature iconic and spectacular works from this new generation of photographers, fashion designers and visual artists. Our ultimate goal is to enhance, transform and re-decorate every room in your home, apartment, game room and office with visually stunning collectible fine art. All our theatrical movie posters are all 100% original.
So feel free to browse our online store. This breath taking collection includes many never-before-seen celebrity "test/proof" photos taken during various modeling sessions, now available to collectors for the 1st time ever. Our vast knowledge and experience in the film industry, coupled by the fact we have established long-term business relationships with many reputable sources around the world... Now provides you with the golden opportunity to own & collect these stunning and never-before-seen rare photos for a tiny fraction of their true cost! That's it for good! Most are unpublished and developed directly from the 100% original and color corrected 35mm negatives, press slides, chromes and/or studio transparencies. Silver-Halide Based Photographic Paper Has Been Around For More Than 5 Decades. It's a premium quality photographic paper that was specially coated on a patented multi-laminate base which produces extremely durable, tear-resistant photographs developed in the traditional silver-halide darkroom process. It's the official industry benchmark by which all other photo medias are judged! The Final Results Will Astonish You and Simply Take Your Breath Away! Extreme Sharpness - Vibrant Color Saturation - Exceptional Visual Depth - Flattering Flesh Tones. Developed om Kodak's Award-Winning range of silver-halide (AgX) color negative photographic papers!
DO NOT FORGET that over time... More Details For Your Consideration.
The actual photo is much sharper than the "low resolution" image shown above. The visual depth, brightness & vibrant colors will simply take your breath way! These photographs are unlike any other type of photos you have ever seen before! Each print was professionally developed to the highest industry specs. Dimensions depend on the original image source, either 8.3" x 11.7" (A4) or 8" x 10". Actual photo image from "Square" transparencies is 8" x 8". We also provide the following services. Personalized & very friendly 1st class customer service. Photograph are carefully packaged in a special moisture proof plastic bag.
The more auctions you win... Win 6 photo auctions and choose 1 FREE photo. Win 12 photos + 2 FREE photos. Win 20 photos + 3 FREE photos. To order your free photo(s)....
Your complete satisfaction is very important to us! If the photos are NOT exactly as described... We are always adding new photos! Signing up is super fast & easy. It will only take you one minute.
You can also pay by direct bank to bank wire transfer! Full details are available on request. Arrival times can vary depending on your location and distance from CA & NY. Orders are sent via the US Post Office or UPS unless you specify otherwise.
It's very important to us that your collectible photos arrive in pristine condition. Standard prints up to 8.3" x 11.7" (A4) in size are also enclosed in their own individual moisture-proof cellophane bags for protection. Our bags are acid free so they will not damage your photos. All envelopes are labeled front and back: PHOTOS - Do Not Bend. The piece is not flexible if it cannot bend at least 1 inch vertically and 2 inch horizontally without being damaged (see illustrations above).
This is because the flat package must pass through the Post Office conveyor belt as it makes a 40 degree turn. Therefore, despite our secure & professionally packaging, if your parcel should still arrive damaged... At that point, we will either.
Replace the photo(s) at no further cost to you what-so-ever, providing of course we still have prints available of the exact photo(s) you paid for. Replace them with similar photo(s) of your choice. Our Commitment to the e b a y VeRO Program.
No specific rights are given, intended or implied. The vintage original (8 x 10) (2 x 2) (4 x 4) color & b/w studio transparencies, 35mm still photographer's negatives, chromes and press slides come from a wide variety of reputable and established sources including... Our own staff photographers, freelancers, private collectors, independent and professional photo/press agencies and even quite a few specialized wholesale outlets. In light of those facts, there's always a distinct possibility or slim chance that we may have acquired a specific image(s) in error. Rest assured we will permanently delete that specific file from our archives and refrain from ever using it again unless you give Kiss Me Monster specific permission and authorize us otherwise.
Was stored in a "climate controlled" dark room; away from pets, dust, moisture, water, bugs, exposure to UV sunlight, humidity, heat & smoke. Today, it's impossible to find this particular photo in such. Add this magnificent work of art to your awesome movie photo collection before it's Gone! Take advantage of this SPECIAL offer NOW. This exquisite work of original art will definitely increase in value!
This exquisite photograph will make a superlative addition to your growing collection. Or proudly displayed in a prominent wall in YOUR den, home office or game room! This is your golden opportunity to add this exquisite photograph. IMPORTANT MESSAGE from Kiss Me Monster. For any'Genre' movie poster or publicity photograph to really leave a profound impact, it must first be able to effectively communicate! By combining the power of subliminal and thought provoking images along with powerful words, posters convey their messages to audiences quickly and very persuasively. Blending superlative design, creative advertising and sensational art, posters and photos clearly reflect the place and time period in which they were created. We've spent many years tracking down those specific types of rare posters and publicity photos which showcase the very best art for their time! This spectacular movie photograph is of course a prime example. You finally have the golden opportunity to collect and own the most sought after and visually stunning theatrical posters and photographs created by the movie studios in the last 70 years. STAY HEALTHY, The KISS ME MONSTER Staff. Our auctions NEVER have a "Reserve" with NO buyers premium. Every item is accurately described, with un-retouched high resolution images. This obviously provides the golden opportunity to collectors (such as yourself) to add these exquisite works of art to your growing collections. KISS ME MONSTER'S consignors rates are also very favorable which (through word of mouth) has transformed our company into one of the most trusted online sources for rare movie memorabilia and unique collectibles. KISS ME MONSTER was originally founded in 1966 by 2 collectors (still with our company today) working from a small garage in Queens, New York.
1st Class Customer Service has always been our Main Priority! We have NO intention of keeping you waiting for an extended time period. If by chance, you want to use a different carrier (UPS, Fed Ex, DHL).
We pride ourselves on our superlative packaging methods, so there will never be any surprises once you receive your parcel. The SECRET To Our Phenomenal Success..
Our staff will respond immediately to every concern & inquiry. We view everything from the customer's perspective, precisely in the manner any of us would expect to be treated. Our entire team (including myself) wants to make 100% certain you have an enjoyable and very rewarding shopping experience! We know for a fact you'll definitely appreciate a speedy and detailed reply.
Therefore, we understand the new shift in this current market really well and always strive to be extremely accurate when providing specific details and describing the overall condition for each unique collectible that we list here. In the coming weeks & months ahead, we will continue to bring you unique products and exclusive collectibles plus fresh ideas from our ever-changing modern world. In The Meantime, We Invite You To Join Us On This Amazing And Trend Setting Journey. Unless otherwise stated, we never reproductions of any kind!
We are constantly adding new posters & rare collectibles to our inventory; eclectic, crime, thriller, art-house, cult, horror, sci-fi, fantasy, exploitation. We look forward to hearing from you shortly. Once again, we thank you very much for your continued support.
The KISS ME MONSTER Staff. New York - Boston - Kansas - California. This item is in the category "Entertainment Memorabilia\Movie Memorabilia\Photographs\1960-69\Black & White". The seller is "kiss_me_monster" and is located in this country: US.
This item can be shipped worldwide.
Industry: Movies
Year: 1960-69
Size: 8.5\
Object Type: Photograph
Style: Black & White
Original/Reproduction: Original
Goldfinger, Behind The Scenes: 1964, UK double weight photo
Country/Region of Manufacture: United Kingdom
Modified Item: No

---