The James Bond Collection 24 Films on Blu-Ray From Dr. No to SPECTRE 007 24 Disc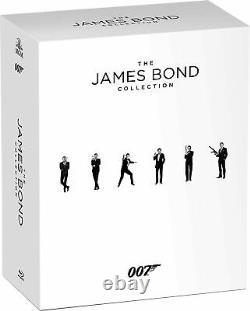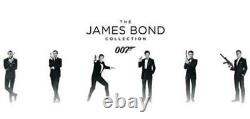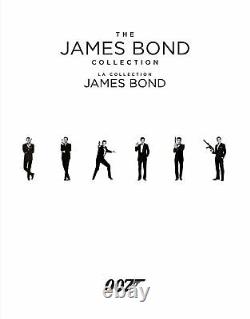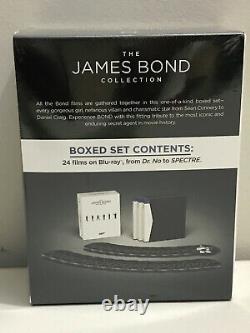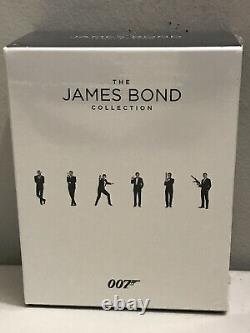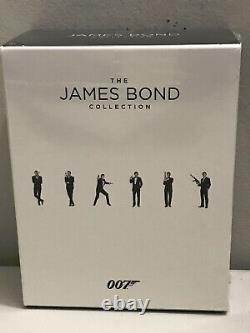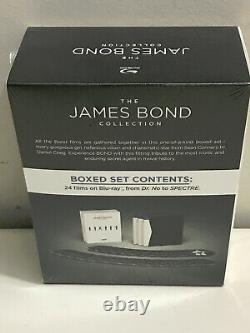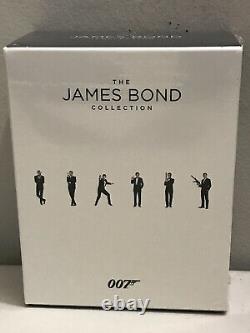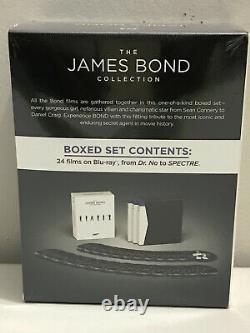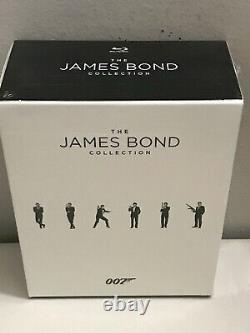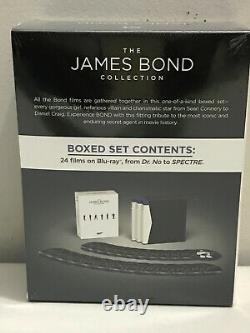 The James Bond Collection - 24 Films on Blu-Ray - From Dr. No to SPECTRE 007 24 Disc Boxed Set. In the film that launched the James Bond saga, Agent 007 battles the mysterious Dr.
No, a scientific genius bent on destroying the U. As the countdown to disaster begins, Bond must travel to Jamaica where he encounters the beautiful Honey Ryder and confronts the megalomaniacal villain in his massive island headquarters.
In this, the second of the series, Bond travels to Turkey to meet a mysterious Russian woman who claims to have fallen in love with his photograph. She offers him a secret translating device if he will join her, although he does not know that she has been put up to the task by Rosa Klebb, formerly of the KGB, who has gone to work for SPECTRE.
James Bond battles cunning international smugglers intent on infiltrating Fort Knox. The evil SPECTRE organization hijacks a NATO plane and seizes two atomic warheads.
As the world is held hostage, James Bond (Agent 007) follows a trail to tropical Nassau, where he meets Emilio Largo, a high-ranking agent of SPECTRE, and the stunning Domino. His mission leads him from a perilous jet-pack flight to a terrifying clash with Largo's killer sharks and builds to an epic battle on the ocean floor. After a mysterious rocketship seizes manned space missions from Earth's orbit, suspicions mount and the world superpowers are hurled toward the brink of war.
Their only hope rests with James Bond (Agent 007), who races to stop the space-jackings' true mastermind, Ernst Stavro Blofeld, chief of the evil SPECTRE organization. Blofeld is bent on instigating global warfare from his massive headquarters nestled in an inactive volcano located in a Japanese island. As the countdown begins, Bond joins forces with the gorgeous Japanese agent Kissy Suzuki and scores of Ninja warriors, to mount a daring raid on Blofeld's lair and prevent a calamitous world war.
On Her Majesty's Secret Service. Ames Bond goes to Portugal to enlists the aid of crime boss Draco to track down Ernst Stavro Blofeld, head of SPECTRE. The trail leads to the mountains of Switzerland, where Bond goes undercover encounters a bevy of seductive women, but none more beautiful than Draco's own daughter, Tracy, who wins 007's heart. But Blofeld is poised to unleash horrific germ warfare weaponry that will endanger every living thing on earth. Sean Connery stars as the dynamic 007, on the trail of a diamond smuggler who leads him on a nerve-shattering chase through Amsterdam, Los Angeles and eventually, glittery Las Vegas.
James Bond battles the forces of black magic in this high-octane adventure that hurtles him from the streets of New York City to Louisiana's bayou country. With charm, wit and deadly assurance, Agent 007 takes on a powerful drug lord with a diabolical scheme to conquer the world. The Man with the Golden Gun. James Bond (Agent 007) must find the missing "Solex Agitator, " a device that will harness the sun's radiation and give awesome power to whomever possesses it.
Also vying for the prize is Francisco Scaramanga, a world-class assassin who brandishes a distinctive golden gun. When 007 discovers he is to be Scaramanga's next target, he is hurled into a deadly game of cat- and-mouse, continuing the search as he evades the killer on his trail.
Bond must also contend with Scaramanga's exotic lover Andrea Anders, and Nick Nack, whose small size belies his lethal abilities. Even as 007 enlists the aid of sensuous Mary Goodnight, he must overcome ferocious odds to survive an explosive showdown on Scaramanga's remote island. His adventures draw him into a gripping boat pursuit, a wild automobile chase through Bangkok, and an unthinkable confrontation against an entire martial arts school. The Spy Who Loved Me.
Roger Moore as agent 007 teams with a beautiful Soviet agent Triple-X to battle Stromberg in order to save the world from total annihilation and a 315-pound villian, "Jaws". Space shuttle is stolen in a midair abduction, only James Bond (Agent 007) can find the evil genius responsible. The clues point to billionaire Hugo Drax, who has devised a scheme to destroy all human life on earth.
As Bond races against time to stop Drax's evil plot, he joins forces with Dr. Holly Goodhead, a NASA scientist who is as beautiful as she is brilliant. And 007 needs all the help he can get, for Drax's henchman is none other than Bond's old nemesis Jaws, the indestructible steel-toothed giant. Their adventure leads them all the way to a colossal, orbiting space station, where the stage is set for an epic battle which will determine the fate of all mankind.
While he must contend with a formidable foe in the villain known as Kristatos, he does have the lovely and talented Melina, the daughter of a scientist killed by Kristatos, on his side. For fans craving their old favorites, Blofeld, Moneypenny and Q all put in appearances. The stunts come fast and furious, most notably a breathtaking race down a ski slope at the film's opening. James Bond (Agent 007) must investigate the murder of a fellow agent who was clutching a priceless Fabergé egg at the time of his death. The trail leads to the mysterious Octopussy, whose traveling circus features a company of gorgeous, athletic women.
Bond and Octopussy share a passionate attraction, but soon 007 discovers that the elegant Kamal Khan is working with a mad Russian officer to hurl mankind into World War III. As Bond tries to stop the nightmarish scheme, his exploits include a tense chase through the streets of India, a deadly brawl on top of a speeding train, and a treacherous mid-air knife fight on an airplane wing. A View to a Kill. When James Bond (Agent 007) is sent to investigate a security leak at the high-tech Zorin Industries, he discovers a hotbed of murder and deception.
The company's mysterious owner, Max Zorin has devised a plan to corner the world's microchip market--even if he has to kill millions to do it. But before Bond can stop Zorin, he must confront the madman's beautiful and deadly companion May Day. With help from the gorgeous Stacey, Bond launches an all-out assault on Zorin's deadly scheme, which leads to a treacherous duel against May Day on the upper spans of the Golden Gate Bridge. After James Bond (Agent 007) helps Russian officer Georgi Koskov make a daring defection to the West, the intelligence community is shocked when Koskov is abducted from his remote hiding place. Bond leaps into action, following a trail that leads to the gorgeous Kara, who plays Bond as easily as she plays her Stradivari cello. As they unravel a complex weapons scheme with global implications, they are forced into soaring chases, a dangerous jailbreak, and an epic battle in the Afghanistan desert with tanks, airplanes, and a legion of freedom fighters on horseback. James Bond catapults into his most passionate adventure - not for country, not for justice, but for personal revenge. Timothy Dalton brings urgency, charm and deadly determination to his role as 007. Pierce Brosnan ignites the screen as James Bond in this explosive, thrill-packed adventure that pits him against a vengeful adversary who controls an awesome space weapon capable of global destruction.
Someone is pitting the world's superpowers against each other--and only the legendary James Bond (Agent 007) can stop it. When a British warship is mysteriously destroyed in Chinese waters, the world teeters on the brink of World War III--until 007 zeros in on the true criminal mastermind. Bond's do-or-die mission takes him to Elliot Carver, a powerful industrialist who manipulates world events as easily as he changes headlines from his global media empire. After soliciting help from Carver's sexy wife, Paris, Bond joins forces with a stunning yet lethal Chinese agent, Wai Lin. In a series of explosive chases, brutal confrontations and impossible escapes, including a motorcycle pursuit through Saigon, Bond and Wai race to stop the presses on Carver's next planned news story--global pandemonium.
The World Is Not Enough. In the 19th film of the franchise, James Bond uncovers a nuclear plot when he protects an oil heiress from her former kidnapper, an international terrorist who can't feel pain. When his top-secret mission is sabotaged, James Bond finds himself captured by the enemy, abandoned by M16 and stripped of his 00-license. Determined to get revenge, Bond goes head-to-head with a sultry spy, a frosty agent and a shadowy billionaire whose business is diamonds... But whose secret is a diabolical weapon that could bring the world to its knees.
The newly-promoted 007's first mission takes him to Madagascar, the Bahamas and eventually Montenegro to face Le Chiffre, a ruthless financier under threat from his terrorist clientele, who is attempting to restore his funds in a high-stakes poker game at the Casino Royale. Betrayed by the woman he loved, 007 fights the urge to make his latest mission personal. On a nonstop quest for justice that crisscrosses the globe, Bond meets the beautiful but feisty Camille, who leads him to Dominic Greene, a ruthless businessman and major force within the mysterious "Quantum" organization. James Bond's loyalty to M is tested as her past comes back to haunt her. As MI6 comes under attack, 007 must track down and destroy the threat, no matter how personal the cost.
A cryptic message from Bond's past sends him on a trail to uncover a sinister organization. While M battles political forces to keep the secret service alive, Bond peels back the layers of deceit to reveal the terrible truth behind SPECTRE.
Contains 24 James Bond Films. This item is in the category "Movies & TV\DVDs & Blu-ray Discs". The seller is "lukesten" and is located in this country: US. This item can be shipped worldwide.
Country/Region of Manufacture: United States
Season: Complete Series Box Set, 24
Case Type: Blu-ray Case
Features: Additional Scenes
Modified Item: No
Release Year: 2016
UPC: 883904346708
Actor: Sean Connery, Roger Moore
Language: English
Region Code: Blu-ray: Region Free
Sub-Genre: Adventure, Crime/Investigation, Espionage/Spy, Conspiracy
Format: Blu-ray
Rating: NR
Genre: Action & Adventure
Movie/TV Title: The James Bond Collection
Studio: Mgm (Video & Dvd)

---