Ultra Rare CASINO ROYALE 40 x 60 Movie Poster 1967 James Bond Sean Connery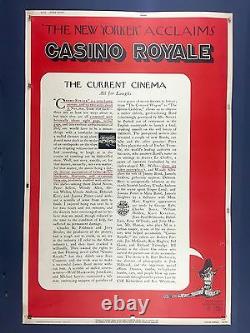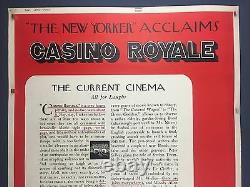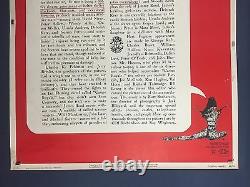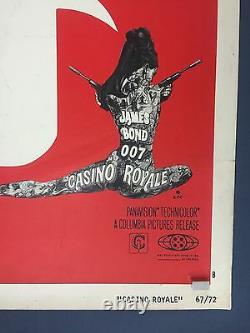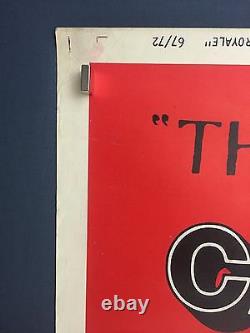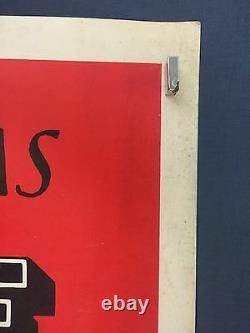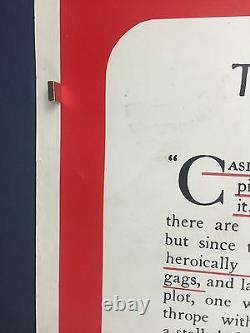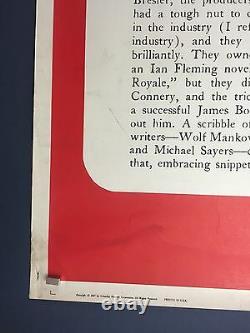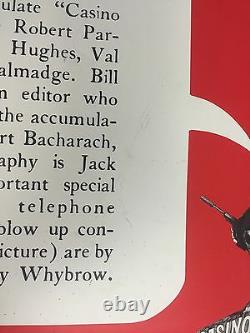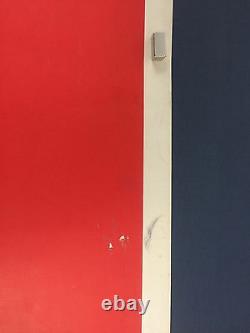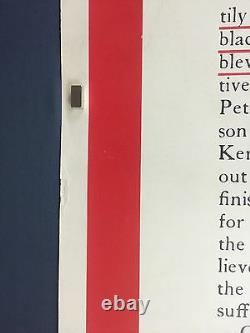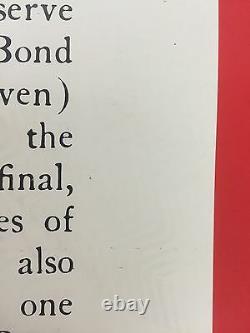 Thanks for stopping by our Vintage Movie Collectibles store! This the ultra rare 40" x 60" New Yorker Style B Casino Royale Movie Poster.
This is a MUST HAVE to complete your James Bond collection. As far as we know, this is the only original of this style. This is a National Screen Service poster. We did find a 1971 Dirty Harry 40x60 that is.
This is an unrestored poster that can be displayed as is or can sent to a restorer to clean up the minor wear and scuff marks. No tape; no pinholes; three small 1/4 inch edge tears; edges and corners have areas of wear; scattered soiling on border areas and on scene; bottom left corner has creasing; a couple 1-2 inch scattered vertical creases from poster being rolled and unrolled; purple mark bottom left corner of white text block; many tiny black specks at bottom of scene text block; two small indents/scratches at bottom right edge that has exposed the white background in the red scene area.
US ORIGINAL FORTY INCH BY SIXTY INCH POSTER. POSTER MEASUREMENTS: 40" x 60". Mint (10.0): An item that has never been used or displayed. May show very slight signs of age. On folded item might show the most minimal signs of wear to the exterior due to storage.
Item should have no holes or tears. Near Mint (NM) (9.4): A very lightly used item with fresh, saturated colors.
On folded items, may show the most minimal wear at the folds. Item should have no holes, no paper loss, may have very minor tears along edges, may have fine pinholes. VeryFine (VF) (8.0): An item with bright color and a clean overall appearance. It may have general signs of use such as minor fold separation and fold wear.
It may have pinholes or very minor tears. Fine (FN) (6.0): An item with good colors and, overall, still very presentable appearance. It may have tears, slight paper loss, tape, and minor stains.
It may have some fold separation. Very Good (VG) (3.5): The item may be slightly brittle due to age, have tape on it, or may have some paper loss, wrinkling or staining. The item may have writing, tanning, or some slight fading to colors.
The item may have some varying degree of restoration. Good (GD) (2.0): An average item which may have tears, paperloss, and general age wear. It may have some color fading, stains, tape or tape stains, and be in need of restoration.
Fair (FR) (1.0): Item may have faded colors and/or brittle paper, showing significant signs of use. May have tears and paperloss. May have tape, writing and/or stains in image area. In great need of restoration or had major restoration. Poor (PR) (0.5): An item that is worn, torn, and/ or badly damaged.
May have staining or dry rot. May be heavily soiled and/or large pieces missing, and may be cracked or brittle. It would be in dire need of restoration.
Incomplete: An item missing pieces or with cutouts. Measurements: Items are not measured exactly. Unless otherwise specified, measurements quoted above are approximate to the nearest inch. For example, if we say a one sheet poster is 27" x 41" its precise measurements may be closer to 26 3/4" x 40 7/8" (or something similar). This slight variance is quite common for all original movie posters.
: Poster that was issued for a movie by the National Screen Service (NSS), or by a movie studio, or by another company authorized by the studio for display in an actual movie theater or for promotional use at the time of the films release. Rerelease and posters with "Academy Award" on them are also "original" but they are usually considered less desirable. NSS (National Screen Service): From 1939 until the mid-1980s the NSS distributed almost 90% of all American movie posters.
During the 1960's and 70's they had at least 6 regional print shops: New Jersey, Cleveland, Atlanta, Los Angeles, Wichita, and Dallas. They produced, printed, distributed and stocked all of the materials for most of the major movie studios. NSS was bought out by Technicolor, Inc.
Movie studios mostly now print and distribute their own advertising materials. Folded & Rolled Posters: Older posters, prior to the mid 1980's were usually (not always) issued folded while newer posters are issued rolled. Vintage original movie posters were normally printed in very limited quantities, thus they are rarer.
All of them were not meant to be saved. Authentic original movie posters usually contain an NSS information tag/paragraph and number.
However, this is not always true. There are plenty of original movie posters that do not contain NSS info. To complicate matters, just because a poster has an NSS tagline, NSS number, and a GAU (printer's union) logo, does not necessarily mean it is an original movie poster. There are many fakes and reprints that have this printed on them to make them appear more authentic. Studio (non NSS) issued posters: Considered original. These were a different print run at the time of the films initial release often printed directly for or by the studio for promotion and as giveaways to industry insiders. Not necessarily for use in an actual theater, but sometimes they did make their way there. May differ slightly or be exactly the same as the NSS printing (except for NSS tag and number at the bottom). In many cases these are rarer than the NSS issued poster. Common standard sizes include: One Sheet 27"x41" or 27"x40", Insert 14"x36", Half Sheet 22"x28", Three Sheet 41"x81", Lobby Card 11"x14", Window Card 14"x22". Measurements on these can vary slightly, but usually by no more than a half inch or so. ADVANCE (ADV): Issued well in advance (usually many months) of a film's release. Very often similar to the regular issue but with an added line of text like "Coming This Christmas".
TEASER (TSR): Issued before a film is released. Designed to pique interest "teasing" by showing very little. Very often contains plain text or a single picture without text. Usually rarer than the regular issues.
INTERNATIONAL STYLE (INTL): A poster made in the U. Often featuring different artwork, but sometimes they use almost the same exact artwork/design. Sometimes the artwork/photos are more risqué and sometimes they feature an alternate title. STYLE A, B, C, D: Studios often issued many different styles of one sheets for the same movie. To differentiate them they were often marked as "Style A" or "Style B" etc.
DOUBLE-SIDED (DS): In the early 1990's some studios started issuing movie posters that were printed on both sides. This process makes the poster stand out more in a theater light box display. Today, most posters are printed with single sided and double sided versions. RE-RELEASE (RR): Re-release or reissue posters are original theater used movie posters, but have considerably lesser value than a first release poster.
Most often you can determine a reissue by looking at the bottom of your poster in the right hand corner. There will usually be an "R" in front of a year number as in "R56" if it is a reissue. Other clues are phrases such as "An Encore Hit", "Brought Back by Popular Demand" or "Nothing Cut But the Prices". TRI-FOLDED: A poster with three machine fold horizontal foldlines but no vertical machine foldline. We are always listing genres of movie items to include sci-fi, horror, exploitation, sexploitation and blaxploitation ranging from the 1930s to the 2000s. Please bookmark us and check our listings from time to time. Thank You from our team at Partners65 Vintage Movie Collectibles. The item "Ultra Rare CASINO ROYALE 40 x 60 Movie Poster 1967 James Bond Sean Connery" is in sale since Thursday, July 14, 2016.
This item is in the category "Entertainment Memorabilia\Movie Memorabilia\Posters\Originals-United States\1960-69". The seller is "partners65" and is located in Bethel, Connecticut.
This item can be shipped worldwide.
Object Type: Poster
Original/Reproduction: Original
Industry: Movies

---